Meet Tamara Day of Bargain Mansions!
Jan 16, 2023, 15:56 PM
Tamara Day, host and designer of Bargain Mansions, CEO and Founder of Growing Days Home and Growing Days Design, and also a wife and mom to 4 kiddos! If you watch Bargain Mansions, you know that she buys and renovate homes in the Kansas City metro area to give them new life for today's modern families. Her trademark design style? "Laid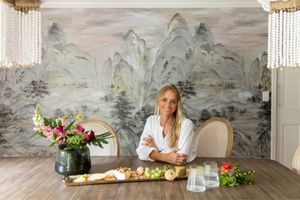 back luxe" which combines touches of glam with a cozy livable vibe so your space is both beautiful and practical.
We talked to Tamara before she plans on appearing at the KC Remodel + Garden Show, taking place Feb. 3-5 at the American Royal Center, and got the inside scoop on all things home design and a few of her favorite things.
1. What home gadget or tool should every homeowner own?
A multi tool! It's good for all kinds of stuff
2. What home project is worth saving on? What is worth splurging on?
You can install your own wallpaper, but splurge on really good wallpaper!
3. What's your favorite HGTV or DIY Network series?
I am a little biased, Bargain Mansions!
4. In your opinion, what's the most underrated tool in your toolbox?
Also the multi tool! You will use it all the time.
6. What is one project you tell people to NOT do as DIY?
Plumbing & electrical - don't mess with it!
8. What's your favorite paint color?
All of them! They all have a place.
9. What's one design tip for a big impact in a small space?
Reproduction art or rugs.
10. What are you currently watching?
11. Favorite room in your home?
12. What's your next home project?
13. What home trends are you loving? What styles do you think will emerge in the future?
Lots of color - in muted tones. Purples with dusty hues, lots of painted cabinetry in fun colors! I think fun whimsical looks that are unique and one of a kind - and I hope to see even more purple color in the future.
15. What do you enjoy about being at a home show?
Everyting ! The inspiration is all around you - the people around you - and having products all around that you can touch and feel and interact with is amazing.
16. What's in your bag or purse?
Glasses, lipstick and gum
17. What project are you currently working on?
Relaxing!! And a few product lines.
19. What is an outdated home trend you hope doesn't come back?
Carpet in bathrooms! Yuck!
20. When you design a room, what is the most important interior design advice you give?
Really know the style you want - have the research done so you can hone in on the look so you don't end up with a little bit of this and a lot of that.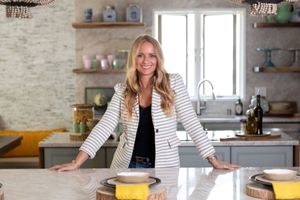 Don't miss Tamara at this year's KC Remodel + Garden Show, taking place at the American Royal Center. Hours are Friday, February 3 from 10 a.m. to 9
p.m., Saturday, February 4 from 10 a.m. to 9 p.m. and Sunday, February 5 from 10 a.m. to 6 p.m.
Tickets are $13 at the door, and $11 online when you buy early before the show starts. All active
military personnel, veterans, fire, police & first responders receive free admission all day on
"Hero Day" on Friday, February 3. All teachers with a valid ID will receive free admission all
day on "Teacher Day" on Sunday, February 5. Kids 12 years and under attend for free with an
adult. See you there!